Personal Navigation Stories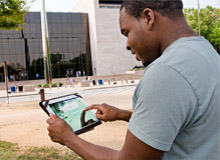 Everyone has a story — what's yours?
Have you sailed the open seas?
Has GPS ever let you down?
Have you ever used the technologies on display in our exhibition?
We were recently guest lecturers at a school coop, where we talked about real pirates in history, and the navigation techniques they would have used in the 16th century. We explained that they estimated their ship's speed in those days by dropping a chip of wood (or whatever) into the water at the bow, and counted how long it took to get to the stern. We had them build simple astrolabes out of cardboard and measure the angle to the noon sun to calculate their latitude.
Many years ago (in 1955) I was a U.S. Navy Reservist on a training cruise, sailing from Chicago Navy Pier on Lake Michigan. Each of us swabbies had to take a turn on the ship's wheel, holding a compass course.
I had great difficulty holding the course while the petty officer kept yelling at me "Meet your compass!! Meet your compass!!" The compass card kept drifting away from the assigned bearing and I kept over-compensating.
Pages
Thank you for sharing your story. All stories and comments will be moderated to ensure they meet Smithsonian terms of use.
Please check back to see if your story is posted. Follow us on your favorite social network (look for airandspace), and share your story using #TimeNav.